Madison "Maddy" Deerman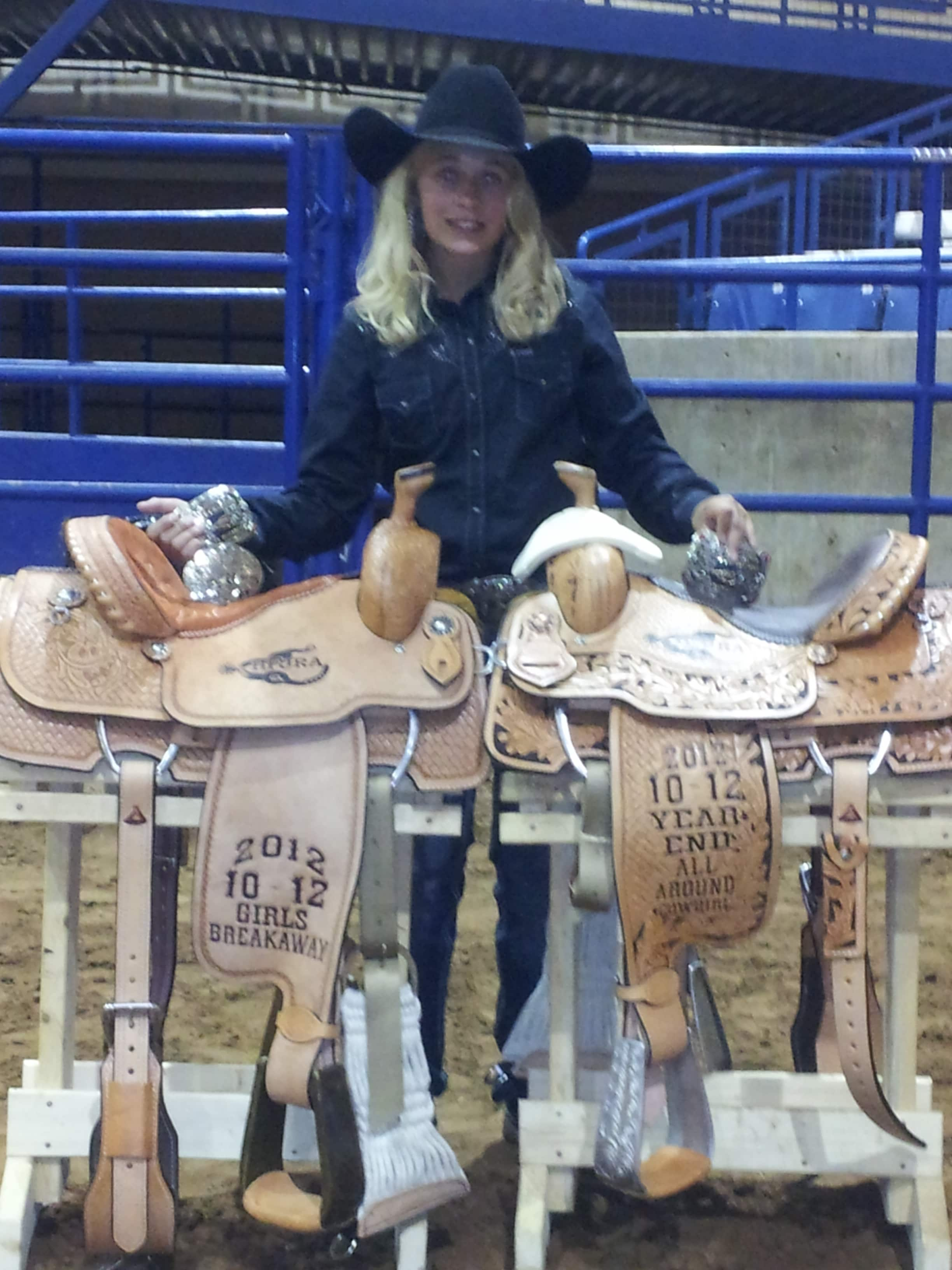 Born: April 6, 2000, in Roswell, NM
Events:  Breakaway calf roping, team roping, barrel racing, and goat tying
Maddy's love of horses and rodeo began early in life on the family ranch outside of Hope, NM. Before she could even walk, Maddy loved to have Dad and Mom lead her around on ol' Roanie.  By the time Maddy was three, she no longer needed Dad or Mom's help.  She was riding and helping round up cattle on her own. At that time, Maddy's interest in roping and barrel racing began to surface. From the enclosed play area her parents had built in the arena for Maddy, she watched Dad and Mom rope and run barrels. One day, Maddy decided that she could bring up the roping steers and load the chute for Mom and Dad. It was then that she exchanged her Barbies for a rope and began her journey from the playpen to the practice pen.
At the age of four, Maddy entered her first youth rodeo and, since then, has won two horse trailers and numerous saddles and buckles. In 2012, Maddy had a stellar year. 
She qualified for National Jr. High School Finals and competed as a member of the NM team at Nationals.  Later that summer, she won several championships and the High Plains Jr. Rodeo Association All-Around 12 & Under championship. During Labor Day weekend of that year, she competed in Joe Beaver's Super Stars Roping and emerged high money winner and won second in the average. In November, Maddy won the average at the Ultimate Calf Roping in Amarillo, TX, and traveled to Duncan, Oklahoma, where she competed in the 11th annual Rising Stars Calf Roping. It was there that Maddy not only roped a calf in the fastest time (2.42 sec.) of the 12 & Under Breakaway roping, but she was the only girl of the twelve ropers to progress to the short round.  Maddy won that short round with a 2.62 sec., and she won the RSCR average with 13.16 sec. on four head of calves.
Currently, Maddy lives on the ranch with her parents, Brook and Joley Deerman, and attends school In Artesia, NM.  She rides and ropes in the practice pen and the pastures, looks forward to the next rodeo, and dreams of competing in the NFR.  
Rodeo awards--Highlights:
2008:
2008 NBHA Champion Youth Barrel Racer

2008 Reserve All-Around Champion West of the Pecos Rodeo Assn.
2008 Champion Breakaway Roper Chaves County
2009:
2009 Reserve Champion Barrel Racer Eddy County Barrel Racing Association
2009 Champion Barrel Racer New Mexico Jr. Rodeo Assn.
2009 Champion Pole Bender New Mexico Jr. Rodeo Assn.
2009 Champion Goat Tying New Mexico Jr. Rodeo Assn.
2010:
2010 Eddy County Barrel Racing Association Champion Pole Bender
2010 Champion Ribbon Roper Eddy Co. Jr. Rodeo Assn.
2010 Champion All-Around Trailer Winner Smokin' Spurs Jr. Rodeo Assn.
2011:
2011 Champion All-Around Trailer Winner Smokin' Spurs Jr. Rodeo Assn.
2012:
2012 Team Roping average winner High Plains Jr. Rodeo Assn.
2012 Reserve champion barrel racer High Plains Jr. Rodeo Assn.
2012 Breakaway Roping average winner High Plains Jr. Rodeo Assn. Finals
2012 Champion Breakaway Roper High Plains Jr. Rodeo Assn.
2012 All-Around Champion High Plains Jr. Rodeo Assn.
2012 High Money winner and 2nd in ave. Joe Beavers' Superstars Roping
2012 Res. Champion Barrel Racer NM Jr. High School Rodeo Assn.
2012 Average winner of Ultimate Calf Roping in Amarillo, TX
2012 Rising Stars Calf Roping 12 and Under Breakaway Champion




Local Cowgirl Wins the Triple Crown of Calf Roping
Thanksgiving weekend was especially blessed for a local twelve-year-old cowgirl and her parents.

 

Maddy Deerman, daughter of Brook and Joley Deerman of Hope, spent Nov. 22-25 in Duncan, OK, where she competed with over 538 contestants from across the nation and Canada in the 11th annual Rising Stars Calf Roping.

After having been the highest money winner at the Joe Beavers Super Stars Roping in Stephensville, TX, and at the Ultimate Calf Roping in Amarillo, TX, Maddy was focused on winning the Rising Stars Roping, the third event in her Triple Crown of roping.
During the RSCR competition, each contestant ropes three calves, and the twelve contestants with the fastest times on three calves move on to the fourth go-round to rope a final calf.  The list of past winners of the Rising Stars roping is stellar, including NFR greats Blair Burk and Tuff Cooper. 
This year, of the twelve ropers with the fastest times, Maddy was the only girl to progress to the fourth go-round. However, that didn't bother Maddy.  She not only roped a calf in the fastest time (2.42 seconds) of all four go-rounds of the prestigious roping, but she won the fourth round with 2.62 seconds and won the average with the fastest time on four calves (13.16 sec.). In all, Maddy won two go-rounds and the average at the RSCR, along with a saddle, two buckles, numerous other awards, and a cash payoff of $1152.
In this competition and other rodeos in which Maddy competes, she represents Tate Branch Auto Group, supporter and sponsor of this and many other future champions.

 

Information about Maddy and additional champions who represent the Tate Branch Group is available at

http://www.tatebranch.com/tate-branch-rodeo.htm

.
However, although Maddy handles a loop and competition well, rodeo is not her only priority.

 

She also excels academically.

 

Each year, Maddy is on the highest honor roll.

 

This is one cowgirl who knows that success comes with hard work in the practice pen and in the classroom.
The following are the results of the 2012 Rising Stars Calf Roping.
1st Go
1st Shad Mayfield 2.52
2nd Booker McCutchenMcCutcheon 2.77
3rd Brock Banks 2.92
4th Quade Hiatt  2.97
5th Chance Little 3.0
6th Hayden Powell 3.13
2nd go
1st Chet Weitz 2.45
2nd Tyler Dean 2.57
3rd Whit Kitchens 2.80
4th Eli Barger 2.85
5th Garrison Koehn 2.97
6th Reed Boos 3.01Whit Kitchens 2.80
3rd go
1st Maddy Deerman 2.42
2nd Booker McCutchen 2.43 Booker McCutchen 2.43
3rd Zane Huffman 2.65
4th McKade Wickett 2.74
5th Dawson Appleton 2.78
6th Chance Little 2.80
Short round/4th go
1st   Maddy Deerman            2.62
2nd Jesse Thompson           2.65
3rd Austin Ross                     3.24
4th Stetson Schuster            3.26
Average
1st   Maddy Deerman            13.16
2nd Riley Webb                     13.93Riley Webb 13.93
3rd Stetson Schuster            14.31
4th Jesse Thompson            14.40
5th Austin Ross                     14.47
6th Stran Thompson             16.28 Stran Thompson 16.28
The Gray Girls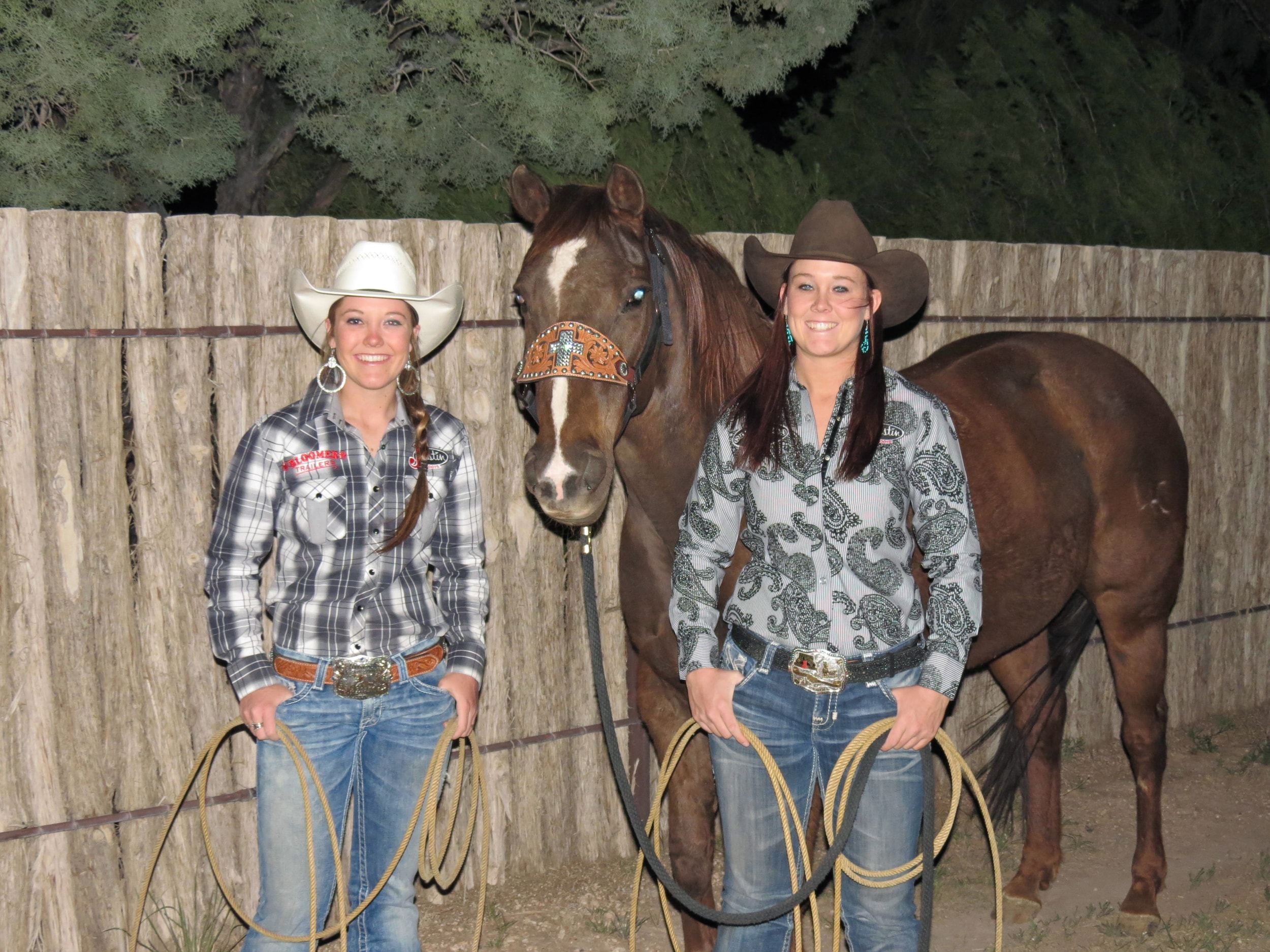 TiAda Lachelle Gray and Tierra Shyan Gray, aka "The Gray Girls" are Lea County rodeo cowgirls.  They took over their parents' team roping horses at a very young age.  It wasn't something their parents had planned, it just kind of happened. It's been a great ride so far.  Rodeo is quite a family affair with their parents, Ross & Pat Gray, who have gone with them to every rodeo throughout their junior rodeo and high school rodeo careers.
TiAda is the oldest having been born March 4, 1992 in Seminole, Texas.  Tierra followed almost 3 years later to the day being born March 2, 1995 in Lubbock, Texas.  Their parents say its been easy to have birthday parties because they have one cake made and take it to the rodeo with them where the majority of their friends are.
The Gray Girls started out with local associations like Eddy County Junior Rodeo Association and Lea County Junior Rodeo Association competing in the 5 and under and moving up as they got older.  Eventually they moved up to bigger associations that have rodeos all over New Mexico & Texas and are still going strong; High Plains Junior Rodeo Association and American Junior Rodeo Association.  The girls won several event saddles and buckles along with numerous All-around titles from these associations throughout the years.  They both won horse trailers from the American Junior Rodeo Association for the finals all-around when they were in the 8 & under.   They have also traveled all over Texas & Oklahoma going to 19 & under ropings put on by several different contractors.  One of TiAda's most memorable roping wins was when she was 8 years old roping in a 13 & under boys and girls breakaway roping at the Young Guns Roping.  She won the average by .01 over one of the NFR qualifying Cooper boys, Clif, who was 13 at the time.   Tierra won the Young Guns girls 19 & under breakaway roping in 2011. 
They eventually moved on to the New Mexico Junior High Rodeo Association (NMJHSRA) and New Mexico High School Rodeo Association (NMHSRA).  TiAda and Tierra have both qualified for Nationals in these associations.   Tierra won the state junior high breakaway title in 2007, along with the Rookie All-Around Cowgirl title.   TiAda had her biggest win of her career that same year, the 2007 National High School Breakaway Championship in Springfield, Illinois.  TiAda was also the Rookie All Around Cowgirl that year for NMHSRA.  In 2008, TiAda returned to National High School Finals (NHSFR) in Farmington, NM, and won the Sweepstakes breakaway roping by winning the first & short round & placing in the second round bringing home a fat paycheck.  TiAda also went on to win 3 state championship titles at NMHSRA in 2009.  She took home saddles for barrels, breakaway, and the All-Around Cowgirl title.  While TiAda was competing at High School level Tierra was qualifying for Junior High Nationals all 3 years.  Tierra was a member of the New Mexico Junior High Rodeo Girls team that won Nationals in 2009.  Eventually, they ended up competing against each other in 2010.  Tierra qualified for NHSFR in Gillette, Wyoming, in the barrels and TiAda in the breakaway.  Tierra had a little hard luck and drew up on the day a large rainstorm came in and running in the mud didn't work too good.  TiAda on the other hand won the first go of the breakaway and fourth in the second go.  Unfortunately a broken barrier cost her a second National Championship in four years.    
The Gray Girls have also been fortunate to be picked as members for the Bloomer Trailer team at the International Finals Youth Rodeo (IFYR) in Shawnee, Oklahoma since 2010.  The Bloomer team has won the team competition at the IFYR the last 4 years.  TiAda has represented the team as a goat tyer while Tierra has represented them as a pole bender in 2011 and a breakaway roper in 2012 & 2013.  Tierra won second in the breakaway the second round of the IFYR 2012 & fourth in the pole bending the second round.  Tierra ended up 6th in the pole bending average and the reserve champion all-around cowgirl.
At the present time, TiAda is attending college at Eastern New Mexico University on a rodeo scholarship. She is working towards a degree in Ag Science.   TiAda is trying to earn a spot to the National Intercollegiate Rodeo Association Finals in Casper, Wyoming. Tierra is finishing up her senior year at Tatum High School. She is working towards making her third NHSFR in 3 events, breakaway, pole bending, & cutting.  Tierra plans on attending Eastern New Mexico University also on a rodeo scholarship along with other scholarships.  Tierra's current plans are to get a degree in Business. 
TiAda & Tierra have received their Women's Pro Rodeo Association (WPRA) permits. They hope to hit some of those WPRA roping events along with the Texas Cowboys Rodeo Association (TCRA) in their spare time this summer. They will be pulling their horse trailers proudly with their Dodge Cummins diesel pickups purchased from Tate Branch Auto Group.  "The Gray Girls" are very proud to be associated with "Riding for the Brand" in support of Tate Branch Auto Group and what it stands for! 
It's not just about talent and winning


 but great character and morals!